7 Mile Trip
(3-5 hrs. average time)
Solo kayak(one person): $30
Tandem Kayak (two person): $50

Canoe (two person): $50
( kids under age 14 ride free as a 3rd. passenger )
---
9 Mile Trip
(4-6 hrs. average time)
Solo kayak(one person): $38
Tandem Kayak (two person): $60

Canoe (two person): $60
( kids under age 14 ride free as a 3rd. passenger )
---
Group Rates:

Call our office for rates tailored to your group.
812-526-9851
---
Please, no children under age 4.
---
WE RUN THE BEST BOATS IN THE INDUSTRY AND ONLY REQUIRE A DEPOSIT FOR GROUPS OF 20 OR MORE PEOPLE.
A 7% sales tax will be added to all prices.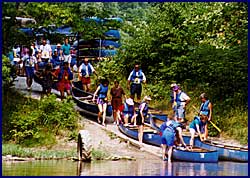 Reservations


Please call our office daily: 9a.m. - 4p.m.
To make a Reservation: (812) 526-9851


Reservations are taken and honored
For our 9:00 thru 2:00 shuttles.
You must be at the office by 1:30 to catch the 2:00 shuttle

Weekday shuttles 9 a.m. - 1 p.m.
Weekend shuttles 9 a.m. - 2 p.m.

Concessions
We have soft drinks, snacks and ice. All drinks must be in cans or plastic. NO GLASS.

Alcohol Policy
Beer Only. No hard liquor, kegs or party balls.
We strongly discourage the use of alcohol on our premises or on the river.